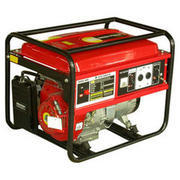 Generator
GENERATORS can power two motors at a time safely. We can not and will not make any warranties or representations in regards to trying to use MORE THAN TWO BLOWER MOTORS AS NECESSARY FOR THE RENTAL EQUIPMENT.

If you add any other type of electric device to the generator then they may not power the two motors necessary for the inflatables.

In addition, Fire Safety guidelines, and Florida Law do not permit us to hand you any gasoline or gasonline tanks that may remain unsupervised. Therefore, the person or business renting the equipment are responsible for providing your own gasoline. (This is just like any other place you rent a generator from, they CAN NOT COME FULL) -- (We bring them full when we deliver them, ensure they are working but then the gasoline becomes customer responsbility)

PLEASE UNDERSTAND, A FULL GENERATOR CAN ONLY POWER SOMETHING FOR THREE AND HALF HOURS (3:30) Therefore, if you plan on having an event that is going to last all day, you may rent the generator but need to provide your own gasoline and refill gas tank for when they run out of gas.
** PLEASE NOTE : IF WE ARE CALLED TO THE SCENE BECAUSE THE GENERATOR "BROKE" and it simply needed gasoline, there will be a one hundred fifty dollar service fee ($150.00).